We have this set of Magic Bullet Blender at home.. Tapi entah brand apa I pun kurang pasti.. But the box states ASOTV - As Seen On TV.. Hehe.. Anyway, we rarely use it.. I hardly know why it was purchased in the first place.. Impulse buying, I guess.. Hihi.. (I didn't buy it, ye)..
Anyway, I was intrigued.. An idea came to mind.. I've heard of people making ice-creams without the machine, so I wanted to try it out using this blender.. So, as usual I googled online and found some interesting results:
How to make an ice cream without an ice-cream machine:
David Le Bovits
About.com
From these two links, I can gather that all you need is a blender, or a food processor.. The magic bullet has many cups/mugs, so I guess I can save up some steps and utensils. I also stumbled upon a recipe which does not require a machine at all, like this recipe below I took from bbc website: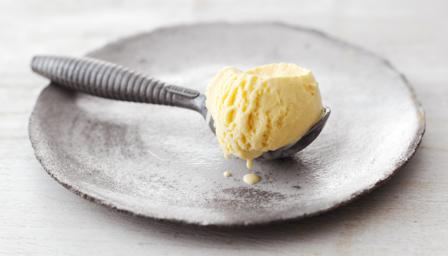 This easy recipe for creamy vanilla ice cream doesn't require an in ice cream maker.
Ingredients:
2 vanilla pods
500 ml / 16 fl oz double cream
70 g / 3 oz sugar
3 egg yolks

Preparation method:
Halve the vanilla pods

length ways

and scrape out the seeds. Add the pods to the cream and bring to the boil, then add the sugar and stir until the sugar has dissolved.

Meanwhile, whisk the egg yolks in a large bowl then slowly whisk in the hot cream mixture.

Pour the mixture through a fine sieve into another bowl and whisk in the vanilla seeds. Pour the mixture into a freezer-proof container and freeze for 2-3 hours, or until set.
Note:
Due to the absence of milk in this recipe, the ice cream does not crystallise in the freezer bowl. So there's no need to stir it. Ideal for anyone without an ice cream maker.
Here's more recipes which I found yummy..
Recipes:
Thursday would be a public holiday here in Malaysia.. Hopefully I won't be too lazy to try this out.. :)
Toodles dearies!